Webinar: Sales Rep Daily Bundle for Eclipse & Prelude
Submitted on: Tue, 05.10.2016 10:37pm

- Kelsey Hamon
Tweet
Watch this webinar for a 30-minute introduction to the new Sales Rep Daily Bundle for Epicor Eclipse and Prelude users.
The bundle includes two scorecards (Sales Rep Daily and Customer Daily) and three supporting modules (Bookings, Open Quotes, Open Orders).
During the webinar, MITS President, Gary Owen, will share where the data for each module comes from within the Eclipse and Prelude systems, and talk about how your sales team can use the new scorecards to prioritize customer outreach, identify sales opportunities, and catch concerning accounts before it is too late: 
Bookings: are bookings and invoicing for their book of business on track for the month, and how does this compare to their 12-month invoicing average? 
Open Quotes: knowing which customers have the highest open quote value (and associated gross profit percentage) helps prioritize which customers to call
Open Orders: greater visibility into open order status helps prioritize outreach to customers—or to operations to find out shipment status and if the promised date will be met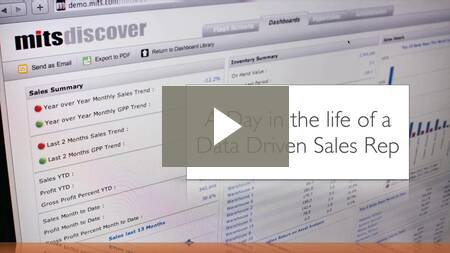 Ready to learn more about MITS Distributor Analytics? Contact us to schedule a customized demo.