Webinar: Product Trend Analysis - The Secrets Inside Your Inventory
Submitted on: Tue, 06.07.2016 12:14am

- Kelsey Hamon
Tweet
Watch this 30-minute webinar to hear MITS President, Gary Owen, share the inventory trend tactics we've seen our distribution customers use to enhance inventory stratification efforts. These tactics will help you understand what your inventory trends mean, which items are moving faster or slower than usual, why that is, and what you can do about it.
During the webinar, Gary will walk you through:
Inventory turns trending reporting
Product 360 scorecards
Product or purchase class analysis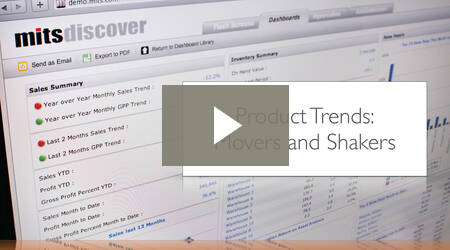 Ready to learn more about MITS Distributor Analytics? Contact us to schedule a customized demo.